Sheila Mae Brown Roesler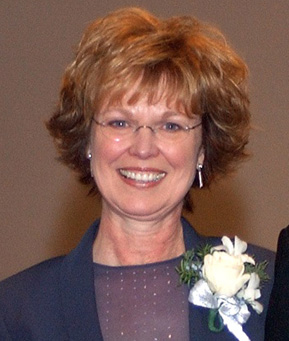 Sheila Mae Brown Roesler was born March 3rd, 1947 in Junction City KS. She graduated from Milford High school 1965 and then attended K-State. 
On July 13, 1968 Sheila Mae Brown married Steven Duane Roesler in Milford Kansas. They were married for 24 years and had two children Chad and Paige. While being a loving and devoted mother she was also very active in her community. For many years Sheila was an active member of Zion United Church of Christ, EHU and PEO. Sheila was ever present in the schools; serving on PTA, as a room mother and the world's biggest Blue Jay fan lead her to being on the Board of Education for USD 475 for eight years. Her commitment to the youth of Junction City grew when in 2001 she started an organization called Women's Connection. The mission was to teach the value of an education to high school girls and the organization is still active today, giving assistance to families with school-age children. During Sheila's years of working outside the home she enjoyed working in the offices of Dr. Bunker and Dr. Bollman.
In 2005 she left the work force and started the career she was created for; being a grandma! Sheila wore out a path between Garden City and Lawrence to spend time with and care for her grandkids. They truly were the JOY of her life. Her face ALWAYS lit up when her grandchildren entered the room. No matter how bad the day or how bad she felt… if they entered the room she made them feel EXTRA-ordinary!
Sheila has been a member of the Church of the Covenant for many years and loved being on the grounds committee and caring for the courtyard. Most Saturday mornings, if the weather allowed, you could find her in her overalls pulling weed and watering flowers at her church…truly a labor of love.
Sheila was a beautiful woman of faith and lived her life blessing others. Whether it was purchasing winter coats for a family in line at Wal-Mart or simply buying a soldier lunch anonymously and having the waitress tell him "Thank you for your service" she quietly showed people the love of Christ.
Celebrating a LIFE WELL LIVED!